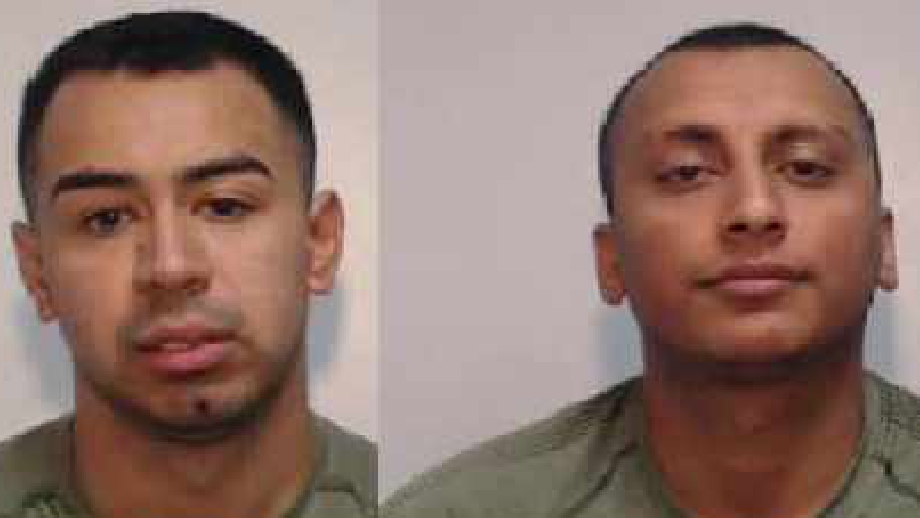 Picture courtesy of Greater Manchester Police
A group of men from across Greater Manchester have been sentenced as part of GMP's Operation Reagan to tackle the supply of drugs and firearms.
The operation run by officers from GMP's Serious and Organised Crime group saw five key players responsible for the supplying class A drugs and a 'safe house' used by the group in Whitefield was put under police surveillance.
In 2018, 27- year old Mohammed Sarwar from Chadderton was observed leaving the 'safe house' and placing packaging into a wheelie bin in Prestwich. This was recovered by police and found to be empty packaging consistent with bulk amount cocaine wrapping.
Later that month, 27-year old Jordan Clements from Failsworth was also seen depositing empty packaging in a public waste bin, and then recovered the packaging containing cocaine.
In July 2019, officers executed a warrant at the group's 'safe house' in Whitefield. In a cupboard under the stairs, officers discovered 2.5 kilos of cocaine, half a kilo of crack cocaine, 860g of heroin and 861g of MDMA.
Drug paraphernalia relating to drug supply was also found in the house.
Hidden inside a bag in the downstairs cupboard was an Uzi sub machine gun and ammunition. A forensic examination later identified DNA from Clements on the gun.
Jordan Clements, of Byron Terrace in Failsworth pleaded guilty to conspiracy to supply cocaine, heroin and MDMA, possession of a prohibited weapon and possession of criminal property and was sentenced to a total of 15 years in prison.
Mohammed Sarwar, of Perth Avenue in Chadderton pleaded guilty to conspiracy to supply cocaine, heroin and MDMA and sentenced to six years and nine months in prison.
Anthony Frost of Silsden Walk in Salford pleaded guilty to conspiracy to supply cocaine, money laundering and failure to supply a phone pin to police and sentenced to eight years and four months in prison.
Marcel Madden of Weybridge Road in Manchester pleaded guilty to possession with intent to supply MDMA and sentenced to four years and three months.
The group were arrested for their involvement in the conspiracy in September 2018. In Frost and Lees flat, officers found ¼ kilo of cocaine, £34,000 in cash and a cash counting machine. In Marcel Madden's home address half a kilo of MDMA was recovered.
Detective inspector Lee Griffin of GMP's Serious and Organised Crime Group, said: "During the course of the investigation the group were observed and the key players responsible for conspiring to bring multiple kilos of cocaine, heroin and MDMA to the streets of Manchester were soon identified.
Drugs are destructive and blight our communities, and as a result of this operation these men are now behind bars where they should be."If you have any information about this type of criminality in your community then come forward to police so that we can tackle this issue and make our streets a safer place to be."