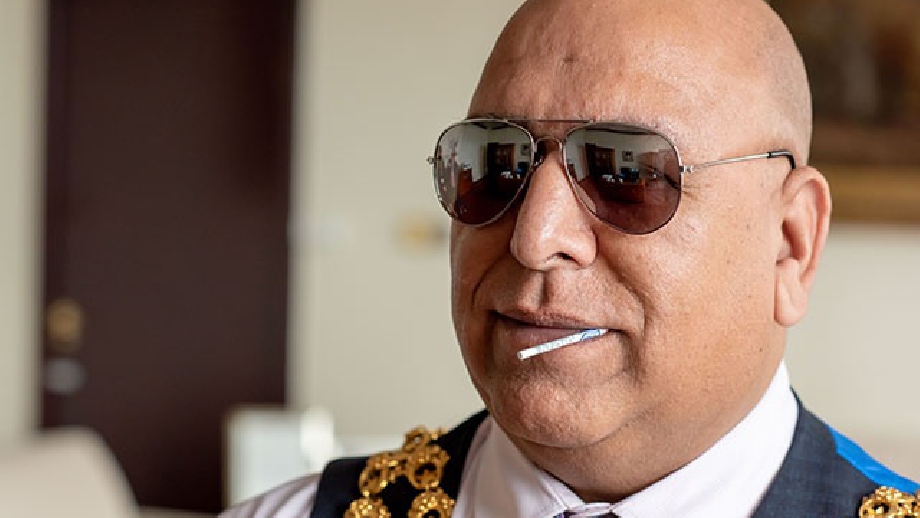 Picture courtesy of Oldham Council
He's perhaps best known for being photographed in an array of wonderful and weird costumes including Mr T, The Rock and Kojak.
But now the Mayor of Oldham has turned the cameras' focus off himself and onto the local community by launching his own photography competition.
Cllr Javid Iqbal wants you to take the best photo showcasing your favourite thing about your local community and send it to him via social media using the hashtag #Mayors1000.
And if you don't have social media, that's ok too. Just email a photo to: javid.iqbal@oldham.gov.uk
The Mayor's annual campaign aims to get 1,000 people to donate £100 each to raise money five local charities – Dr Kershaw's, Maggies Oldham, Action Oldham Fund, Mind and St Thomas' Church, Werneth.
And while he's not expecting each participant to donate £100 – the Mayor is hoping that the community can club together to raise £1000 – and win themselves an array of prizes in the process.
The Mayor explained: "I've been in front of the cameras and at a range of events and I've seen the power that photography can generate.
"It's helped my campaign a lot and now I want the community to get involved.
"So, I'm looking for the best photos, showcasing the best that Oldham has to offer and for people to give generously.
"There are some fantastic prizes for the winners and your work will be displayed in Gallery Oldham and elsewhere.
"The campaign – #Mayors1000 – aims to get 1,000 people to donate £100 each for five wonderful charities that are close to many people's hearts.
"I know people won't all be able to afford to donate £100 but if you get involved and take part and give as generously as possible, I'm confident that together the community can raise a lot of money."
The competition is open to every Oldham resident.
Participants are asked to make a donation, however big or small (£1 has been suggested) to the Mayor's charity appeal which raises money for five local charities.
The competition closes on Friday, March 29, 2019 and winners will be announced Monday, April 29, 2019.
For more information about the Mayor's campaign, and to stay in touch with his journey throughout his Mayoral year, follow him on social media by searching for "MayorJav" on Facebook, Twitter or Instagram, or visit www.oldham.gov.uk/mayor.
How to enter
There are two categories – Under 16s' and 16 plus and you can enter as many photos as you want.
Post your picture on Facebook, Twitter or Instagram using the hashtag, #Mayors1000.
Please include what category you're entering in your post and the name of your picture as well as an email address so we can continue you if you win.
Prizes
16 plus category
First place – £100
Second place – Webpage design and free hosting for six months
Third place – 500 business cards from Design and Print
Under 16s category
First place – £100
Second place – Your picture printed and framed (donated by Studio G Photography)
Third place – A pair of ODEON cinema tickets
Closing date
Friday, March 29, 2019
Donations
To donate, visit: www.oldham.gov.uk/mayor and visit the "Donate to the Mayor's charity" section to donate by post or online.
Big or small, every donation counts.
---
Do you have a story for us? Want to tell us about something going on in Tameside, Oldham or Rochdale? Let us know by emailing news@revolution962.com , calling us on 0161 621 6515 , tweeting us @rev962 or messaging us through our Facebook page. All contact will be treated in confidence.