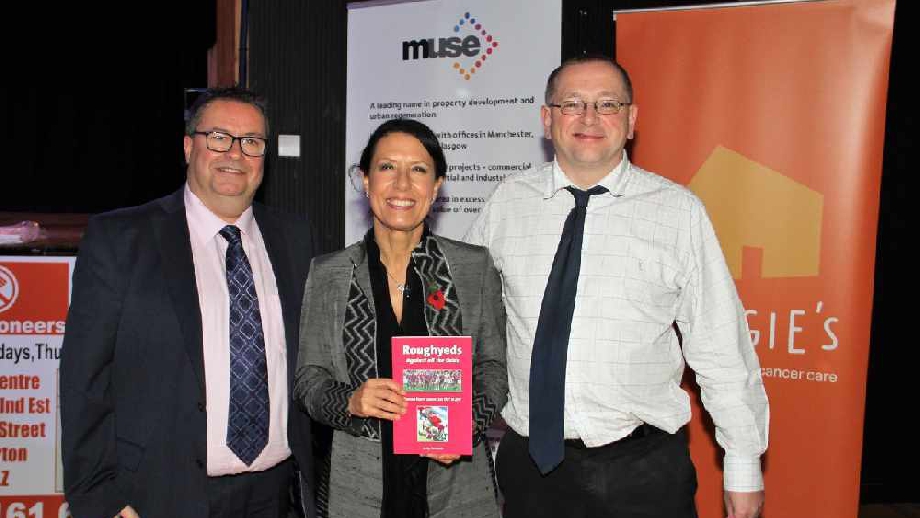 left to right - Chris Hamilton, Chairman of ORLFC; Debbie Abrahams, MP for Oldham East and Saddleworth; Craig Halstead, author of 'Roughyeds -- Against All The Odds'
Debbie Abrahams, MP for Oldham East and Saddleworth, has helped Oldham Rugby League Football Club mark its 20th anniversary by writing an introductory article in a new book titled, 'Roughyeds -- Against All The Odds', that chronicles the club's history.
Debbie, who attended a special gala dinner held at the Queen Elizabeth Hall, Oldham on 3rd November, said: "It was such a pleasure to rub shoulders with many great people who've been part of the Roughyeds' story over the last 20 years.
"The atmosphere at the dinner was amazing and it was so much fun listening to the many stories being shared between supporters past and present, who all share a common bond; an absolute love of rugby league.
"As I said in the book, Rugby League is interwoven into Oldham life and adds to our rich history. It is a part of our community and I very much look forward to the next 20 years and beyond."
Chris Hamilton, Chairman of ORLFC, said: "This latest book by Craig Halstead is another cracker. The title underlines the obstacles the club has had to overcome just to exist. And the tales, reminiscences and memories of so many people who have been directly involved with the club will bring our adventure against all the odds back to life for all Oldham RLFC fans.
"It's a great read and a must for Roughyeds fans young and old."
The book's author, Craig Halstead, said: "It was with great pleasure that I accepted an invitation by Chris Hamilton to tell the story of the club's fortunes over the last 20 years. I thoroughly enjoyed talking, among others, to past and present Oldham players who have worn the jersey with pride and passion.
"Through them, I have attempted to give an insight into what the club has achieved and what it has had to overcome since it was launched in 1997. My thanks to everyone who has contributed and best wishes to the club for the next 20 years. Happy reading. Hope you enjoy the memories!"
'Roughyeds -- Against All The Odds' costs £12.95 and can be ordered from the London League Publications Ltd website - www.llpshop.co.uk - post free in the UK.
Also available on Amazon, ABE Books, from Oldham RLFC on 07904898177 or email: enquiries@roughyeds.co.uk - it can also be ordered from all good bookshops. An E-Book version is available for Kindle readers on Amazon.
---
Do you have a story for us? Want to tell us about something going on in Tameside, Oldham or Rochdale? Let us know by emailing news@revolution962.com , calling us on 0161 621 6515 , tweeting us @rev962 or messaging us through our Facebook page. All contact will be treated in confidence.