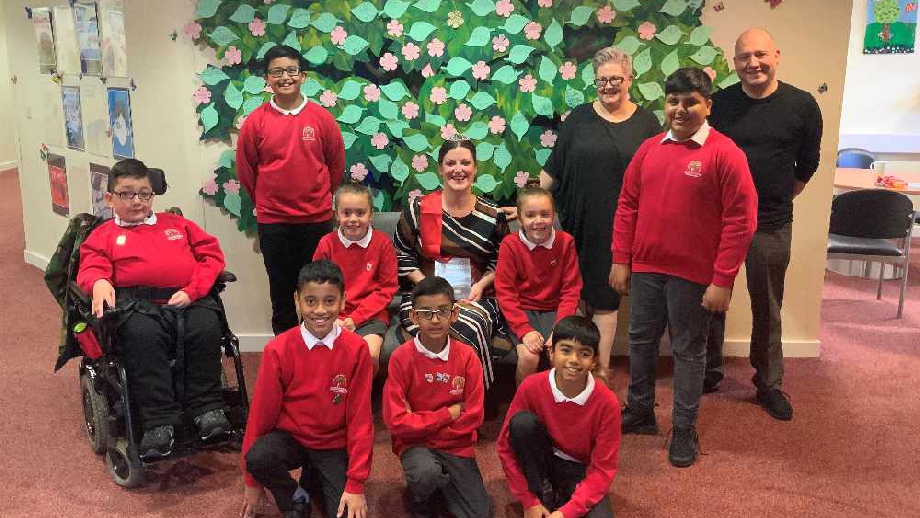 Oldham primary school teacher Collette Donnelly has been revealed as one of just 68 Silver Award winners across the country who will be celebrated today [19 June], on 'Thank A Teacher Day', as the Pearson National Teaching Awards marks its 21st year of celebrating excellence in education.
Presented with a prestigious Pearson Silver Teaching Award trophy at her school during a special assembly to celebrate her outstanding achievement, Collette was selected from thousands of nominations for her continued commitment to her students, and her wider teaching team.
She will now join her fellow winners and Lyndhurst Primary Head Teacher Lizzie Egan-Walsh at a special event taking place at the House of Commons on the 11th of July, as well as a glittering "Oscars for Teachers" awards ceremony in London in October where she is shortlisted for one of just 13 Gold Awards.
The event is later broadcast on BBC2 as a showcase of excellence in education.
Previous award presenters include former Prime Ministers David Cameron and Tony Blair, acting legends Jenny Agutter, Alison Steadman and Sheila Hancock, as well as sports and TV personalities including Shirley Ballas, Helen Glover, Brendan Cole and Nadiya Hussain.
Lyndhurst Primary School is part of Focus Trust; a multi-academy trust based in Greater Manchester, comprising of 15 schools across West Yorkshire, Cheshire and Greater Manchester.
Commenting on her success Head Teacher Lizzie said: "Collette is an all-round fantastic teacher! She is passionate, driven and committed to making a difference to the lives of all around her.
"The Lyndhurst school vision is Shaping the Future, Making Memories, Ready for Life – Collette lives and breathes this vision - in her daily practice, her ethos and values and her holistic approach to learning.
"Through the development of Science and STEM provision at Lyndhurst, Collette has raised the profile of STEM across the school, including leading the Vex Robotics Team to the National Finals in Telford, and is a pioneer for women in engineering.
"Collette has made many links with STEM professionals, raised funds to ensure children can attend STEM events and has enthused and inspired our team to strive for the best outcomes for all.
"We could not be prouder that she has been recognised today as part of the Pearson National Teaching Awards, and we know that we will always benefit from her continued contribution to our school and the wider Focus Trust."
The Pearson National Teaching Awards is an annual celebration of exceptional teachers, founded in 1998 by Lord Puttnam to recognise the life-changing impact an inspirational teacher can have on the lives of the young people they teach – many of whom go on to train as teachers themselves thanks to the significant impact their teachers have had on them.
Today, on 'Thank A Teacher Day', and throughout this week the Teaching Awards Trust - the charity that runs the awards - is asking people up and down the country to say "thank you" to a teacher who has made a significant difference in their lives. The Thank A Teacher campaign allows members of the public to send teachers a card in the post for free, by completing an online form and including a personal message. It takes two minutes but has a lasting impact on those exceptional teachers who receive them.
Michael Morpurgo, celebrated author and former Children's Laureate, and President of the Teaching Awards Trust, said: "So often and for so many of us, it is a teacher who changed our lives, was at our side through hard and difficult times, who lifted us up when we were down, helped us find our voice, gave us confidence when we needed it most, set us on a path that we have followed ever since. At my school I had a French teacher, who might not have made a linguist of me, but was always kind to me. He loved his subject and passed that on. I still love French, the language, the people, the literature, but even he could not persuade me to learn my French grammar."
Rod Bristow, President of Pearson UK, said: "Congratulations to all of our Silver Award winners being presented with a sliver trophy by their pupils today. On Thank A Teacher Day, it's a wonderful chance for them to say thank you to their award-winning teachers. We mustn't forget that these pupils may well be the next generation of teachers, and that's all thanks to the commitment of those currently in the profession. Recognising and celebrating teachers for the lasting impact they have on young people's lives is crucial, and that's why Pearson is delighted to support these Awards every year."
---
Do you have a story for us? Want to tell us about something going on in Tameside, Oldham or Rochdale? Let us know by emailing news@revolution962.com , calling us on 0161 621 6515 , tweeting us @rev962 or messaging us through our Facebook page. All contact will be treated in confidence.