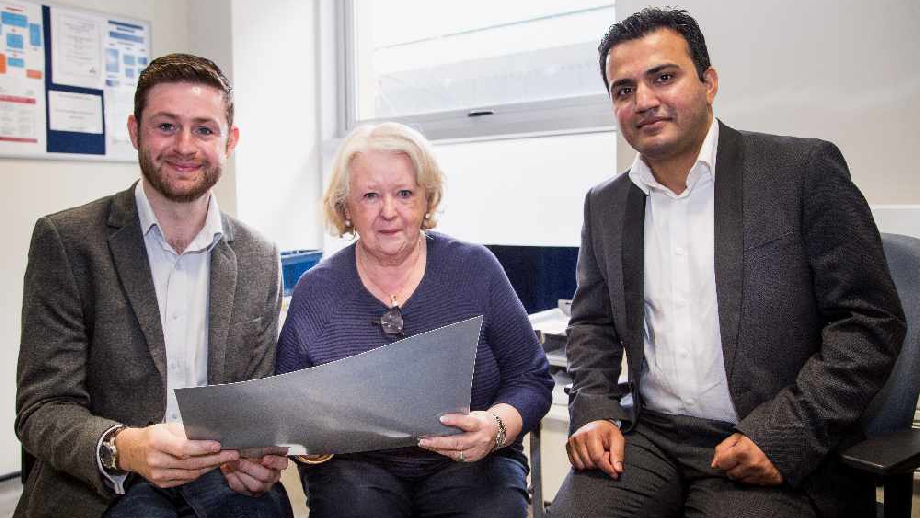 Jim McMahon (MP Oldham West and Royton), Liz Miller (Practice Manager) and Dr Shoaib Umar (Beacon Medical Centre, Blackley).
Oldham is at the forefront of a new national campaign to make Britain Homeless-Friendly.
Run by local social enterprise Beacon GP CARE, created by Alexandra councillor Dr Zahid Chauhan and supported by Oldham West and Royton MP Jim McMahon, the pioneering scheme asks organisations to examine their policies to make sure rough sleepers, sofa surfers and others without a fixed abode get proper access to services and are reminded that they are valued members of society.
And the Royton Medical Centre and the Medlock Medical Practice in Failsworth are among the first nine concerns in the country to put that ethos into practice – after today (October 2nd) pledging to become Homeless-Friendly (see attached photograph).
Also backed by Greater Manchester Mayor Andy Burnham, the campaign was created after Dr Chauhan spoke with homeless people and discovered that some had been turned wrongly away from surgeries because they didn't have a permanent address. Whilst assisting the Oldham Street Angels on weekend night-time shifts, he also learnt the heart-breaking health problems facing homeless people.
Said Dr Chauhan: "We want to see a cultural shift towards the homeless in the way that everyone from banks to supermarkets has changed their attitude to those with dementia. Largely from dysfunctional families, with low educational achievement and perhaps tackling addiction, homeless people face huge daily crises. The NHS is a superbly compassionate organisation with a real zeal for improvement, so where better to start than in our surgeries?"
Research from various homelessness charities has shown that:
73% of homeless people said they had experienced recent physical health problems
41% said they were dealing with a long-term health problem
80% of rough sleepers reported some form of mental health issue and,
35% had been to Accident & Emergency recently and 26% had been admitted to hospital over the past six months.
The Medlock and Failsworth surgeries have made a public pledge to:
Train staff so that they can meet the needs of people who don't have a fixed address
Work with charities and voluntary sector organisations so that homeless people (including children) can be signposted to those who can help them
Encourage other organisations to become community spaces where people can learn about the causes and consequences of homelessness and even host foodbanks.
Concluded Dr Chauhan: "Local surgeries like ours' are still at the hub of many communities and understand its needs in a way other organisations do not – and so I passionately believe that they are the best flag-bearers for this campaign. But it is my great hope that Homeless-Friendly extends beyond the surgery into our whole society. When it comes to homelessness, a sense of pity only goes so far. We need to take action, tackle its roots and consequences and also remember that there but for the grace of God, go we."
Learn more about Homeless-Friendly and how your organisation can pledge to ensure homeless people feel a properly included part of our society by visiting: www.homelessfriendly.co.uk
---
Do you have a story for us? Want to tell us about something going on in Tameside, Oldham or Rochdale? Let us know by emailing news@revolution962.com , calling us on 0161 621 6515 , tweeting us @rev962 or messaging us through our Facebook page. All contact will be treated in confidence.