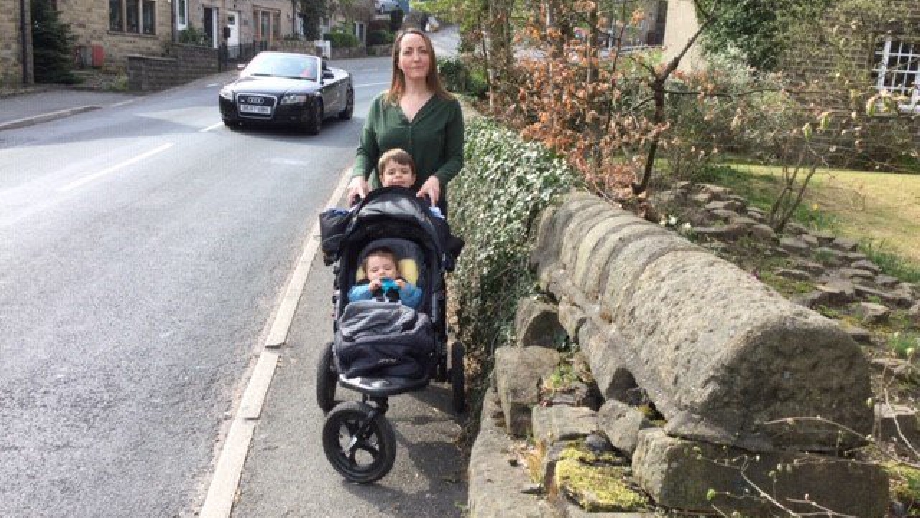 Dobcross mum Jayne Gibson with her 2 children on the bridge
Young mothers are urging all Saddleworth villagers to join their two-prong assault on speeding and road safety concerns in a country village.
Their focus is a narrow ancient bridge spanning a route between Wall Hill Road and Holy Trinity CE primary school, Dobcross.
And they have launched two high-profile petitions aimed at seeking change with a bid to have the path on the narrow bridge widened, plus linked to this, they are pressing for a 20mph speed limit across the whole village including Delph New Road.
Jayne Gibson, 44, who lives on the road with her husband and two children, said: "Traffic speed is a huge concern with the walk between my home and the school the most treacherous.
"My son Joseph started Holy Trinity school in September. I also have a 10-month-old baby, William, who I carry in a harness on my front when I do the school-run.
"Traffic speed along the road is a real worry," she declared. "But the walk to school and back and the narrow bridge between Wall Hill Road and the School/Woolpack is the most treacherous, hence the desire to start campaigning for change.
"It is very difficult to safely cross the road at most times and quite scary walking the path next to the road with vehicles travelling at 50 mph or faster next to you.
"The bridge itself is not wide in places - too narrow for most prams, to walk holding hands with your child, too and wheelchairs.
"My research shows the minimum requirement for paths next to roads in 1.5 metres with, some documents suggesting 2-3metres." (Unchecked)
She went on: "I had my arm hit by the wing-mirror of a passing car when walking the path on the bridge, as has another parent. Vehicles get very, very close to pedestrians on this path.
"And a council lorry also mounted the kerb when I was walking on the same path with my baby in the harness, just centimetres in front of us. The lorry was trying to avoid an oncoming car.
"This type of manoeuvre, where a vehicles moves extremely close to, touches or even mounts the kerb to avoid getting too close to oncoming traffic is very common.
"Now parents who live very close to the school have told me they no longer walk but instead drive their children the short distance to school as they think it's too dangerous.
"Obviously this increases the number of cars on the road and is also very dangerous-plus what a shame that they are too scared to cross the road or walk their children to school."
The recently-formed Dobcross Road Safety Group is campaigning on the issues and seeking the community to sign both online petitions to help them gather support.
@ To see and sign the petitions go to:
https://you.38degrees.org.uk/p/20mphfordobcross
https://you.38degrees.org.uk/p/saferfootpathnarrowbridgedelphnewroad
Paper copies of the petitions will be available shortly.
---
Do you have a story for us? Want to tell us about something going on in Tameside, Oldham or Rochdale? Let us know by emailing news@revolution962.com , calling us on 0161 621 6515 , tweeting us @rev962 or messaging us through our Facebook page. All contact will be treated in confidence.