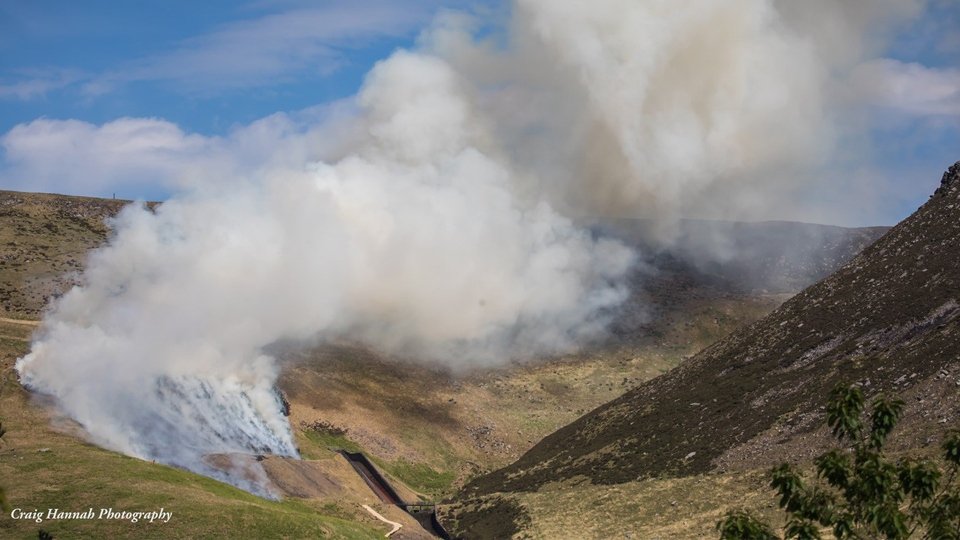 Picture courtesy of Craig Hannah
The Mayor of Greater Manchester Andy Burnham, Deputy Mayor of Greater Manchester Bev Hughes and a group of 5 MPs have written to the Home Secretary calling on the Government to make the use of a disposable barbecue on open moorland and peatland a criminal offence carrying a severe penalty.
They have also asked for increased funding for fire and rescue services to ensure they have the resources they need to effectively tackle moorland fires.
You can read the letter in full here:
Dear Home Secretary,
This joint letter is a call for further measures to protect our moorlands from fire.
Specifically we are asking the Government to make the use of a disposal barbecue on open moorland and peatland a criminal offence, and to ensure that fire and rescue services (FRS) are adequately funded to effectively tackle moorland fires.
Moorland fires often tie up huge amounts of FRS resources for extended periods.
At the height of the region's moorland fires in 2018, 57 fire engines and 220 firefighters were in operation across Greater Manchester.
Greater Manchester Fire and Rescue Service (GMFRS) has 50 fire engines available at any one time so the fires required mutual aid support from 15 other FRSs, some 100 soldiers, and the United Utilities helicopter.
The peat on our moorlands burned in these fires. Peat fires burn underground making them very difficult and resource-intensive to tackle.
GMFRS committed resources to the incident for almost three weeks before the fire was finally extinguished.
More recently, the fires near Oldham at the start of June this year required GMFRS to commit 20% of its firefighter resources to the incident at one time.
Moorland fires are hugely disruptive to residents and the economy.
The 2018 fires spread across 11km², roughly twice the size of Manchester city centre.
It forced the evacuation of 34 homes and the closure of four schools.
The smoke cloud was visible on satellite images and depending on the prevailing winds, there was a danger of it affecting visibility as far away as the M60 and M62 motorways, and even flights in and out of Manchester Airport.
Moorland and peatland fires have a hugely negative impact on the environment.
During the fires in 2018, GMFRS worked closely with Public Health England to monitor air quality resulting in the decision to close four local schools.
The impact on the air quality could be felt as far away as Manchester city centre and there were numerous reports of ash raining down in Chadderton and Mossley.
During the incident, Hugh Coe, professor of atmospheric composition at the University of Manchester reported: "High levels of particulate matter are being emitted…and are affecting large areas of Greater Manchester.
"In the plume peak concentrations are very high and close to the fire air quality is very poor."
Research published in March of this year, found that the fires exposed 4.5 million people to fine particulate matter (PM2.5) levels above the daily World Health Organisation (WHO) guidelines.
The research goes on to say that this significantly increased the number of excess deaths in the region.
There is now a growing body of evidence that air pollution has also significantly worsened the Covid-19 outbreak and has increased the number of deaths during the pandemic.
As well as the increase in air pollution, there are also longer-term environmental impacts of moorland and peatland fires.
The vegetation and the peat on the moorlands around Greater Manchester absorb significant levels of rainfall, reducing the threat of flooding.
The greater the amount of peat and vegetation destroyed in moorland fires, the greater the risk of subsequent flooding across the region.
Peat is also a vital carbon sink that needs protecting to help reduce the amount of carbon dioxide in the atmosphere.
Moorland and peatland fires not only release the carbon that has already been trapped in huge volumes, but also drastically reduce the amount of carbon the peat is able to capture in the future.
There are a number of factors that lead to moorland fires, all of which need addressing.
These include anti-social behaviour such as deliberate fire setting, carelessly discarded smoking materials, and the use of disposable barbecues.
This latter cause can be tackled immediately through new legislation.
We are calling on Government to make the use of a disposable barbecue on open moorland and peatland a criminal offence, carrying an appropriately severe penalty.
We are also calling on Government to provide FRSs with the resources they need to control moorland fires.
As well as the enormous impact these fires have on resources during incidents, there are the costs incurred to ensure our response is as effective as possible. GMFRS is increasing the number of stations and firefighters that have wildfire fighting capabilities, requiring new equipment, vehicles and enhanced training.
The Service is also purchasing new personal protective equipment to ensure its firefighters are protected from the prolonged periods exposed to intense heat that tackling wildfires demands.
Central government funding for GMFRS has been reduced by more than £22m since 2010.
This is a reduction of 35.9% at a time when our population and the risks we are facing are increasing.
We have managed to secure an increase in the fire and rescue service element of the mayoral precept, with the aim of recruiting 108 firefighters in 2020/21.
The Mayor has also deferred a number of proposed operational changes, having listened to concerns from residents and stakeholders, and in light of the fires at The Cube in Bolton, Grenfell Tower fire, and our moorlands.
However, there is only so much extra funding that can be leveraged from the precept, particularly during our recovery from CV-19.
It is essential that the Government funds FRSs to the risks they face.
Large-scale incidents demand resilience and resilience requires appropriate resourcing.
This has never been more apparent than it is during the current pandemic.
In summary, we are asking for:
New national legislation to make the use of a disposable barbecue on open moorland and peatland a criminal offence carrying a severe penalty.
Increased funding for fire and rescue services to ensure they have the resources they need to effectively tackle moorland fires.
Yours sincerely,
Andy Burnham, Mayor of Greater Manchester
Rt. Hon Baroness Beverley Hughes, Deputy Mayor of Greater Manchester
Debbie Abrahams MP (Oldham East and Saddleworth)
Andrew Gwynne MP (Denton and Reddish)
Tony Lloyd MP (Rochdale)
Yasmin Qureshi MP (Bolton South East)
Barbara Keeley MP (Worsley and Eccles South)
---
Do you have a story for us? Want to tell us about something going on in Tameside, Oldham or Rochdale? Let us know by emailing news@revolution962.com , calling us on 0161 621 6515 , tweeting us @rev962 or messaging us through our Facebook page. All contact will be treated in confidence.