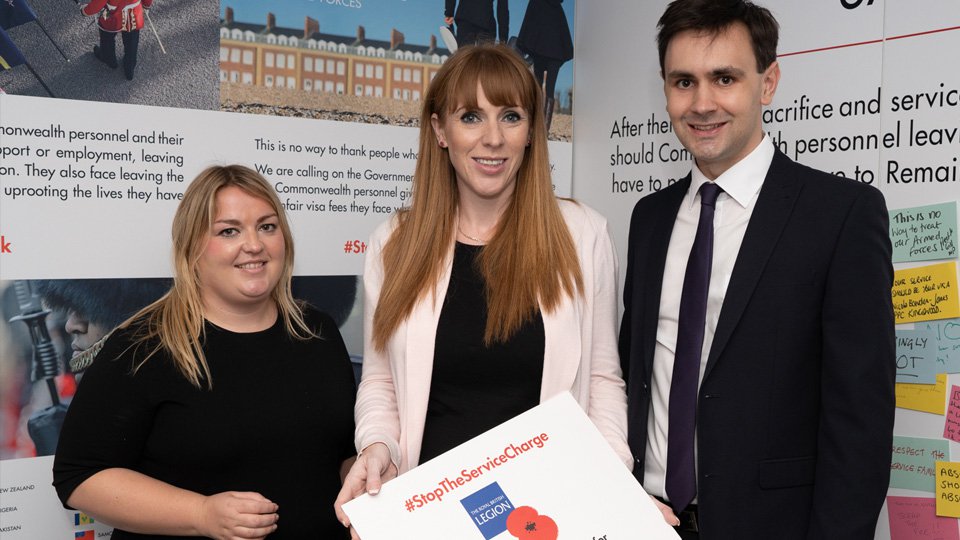 Angela Rayner, MP for Ashton, Droylsden and Failsworth, has welcomed new guidelines from The Royal British Legion that help housing providers to better support the Armed Forces Community.
The Royal British Legion have therefore used their own experience and expertise in this area, along with examples of best practice they have encountered from housing providers, to produce a support guide to help eliminate housing difficulties that this community may face.
The guidance focuses on how local authorities and housing providers can improve their services to bring homelessness among the Armed Forces community down to zero.
There is also content aimed at Service leavers and veterans themselves, the 'end-users' who can refer to the guide for easy to access information.
As housing law is different across the nations, there are three guides: one each for England, Wales and Scotland.
Angela said: "Many areas face pressures with housing while desperately wanting to do their best in supporting the Armed Forces Community. The Best Practice Guide is a vital document which will help us to consider any additional measures we can take to alleviate the pressures on the Armed Forces Community in their search for housing, which can often provide unique challenges."
Director General of the Royal British Legion, Charles Byrne, added: "The Royal British Legion is pleased to be able to produce this Best Practice Guide, and we are happy to offer advice and help to local authorities or housing providers on this issue should they need it.
"No one who has served in the UK Armed Forces should face any form of homelessness and the Legion will always be here to support those in need of assistance. It is important to remember that we do not provide that support in isolation.
"The Legion works at its best when we work in partnership with local statutory services and other charitable organisations. We have therefore produced this Best Practice Guide in order to share expertise, resources, and experience between statutory services and charities like the Legion, which we hope will result in quick and effective action to support those most in need."
Angela has also shown her support for calls from The Royal British Legion for the Government to abolish visa fees for Commonwealth servicemen and women.
Currently Commonwealth citizens serving in the UK Armed Forces have the right to apply for Indefinite Leave to Remain (ILR) after four years' service if they choose to stay in the country. But application fees have risen considerably in recent years, meaning it would cost almost £10,000 for a service leaver to settle in the UK with a spouse and two children.
This has created a situation where Commonwealth citizens are often forced to choose between leaving the UK - a country they have sacrificed a great deal to serve - or remaining here and splitting up their family.
The Royal British Legion, which has raised awareness of this issue through their 'Stop the Service Charge' campaign, say they have provided £36,000 in grants for visa fees last year alone.
They also coordinated a cross party letter which called on the Home Secretary to recognise those who have served in the UK armed forces by abolishing visa costs for them and their families.
This was signed by more than 130 different MPs from 8 different parties, showing the breadth of feeling on this issue.
Angela said: "These men and women sign up to join the UK's Armed Forces, putting their life on the line for our country, and the current visa fees charged do not reflect the nations gratitude for their service.
"Having served the UK, Commonwealth service personnel have the right to apply to stay here without having to pay fees so high that some veterans are being pushed into poverty."
Mr Byrne added: "Charging exorbitant fees to those who have sacrificed so much to serve our country is no way to thank Commonwealth service leavers. We are pleased so many people agree with our Stop the Service Charge campaign and are joining the call to have these fees waived. We hope the Government will listen to these serious concerns."
---
Do you have a story for us? Want to tell us about something going on in Tameside, Oldham or Rochdale? Let us know by emailing news@revolution962.com , calling us on 0161 621 6515 , tweeting us @rev962 or messaging us through our Facebook page. All contact will be treated in confidence.