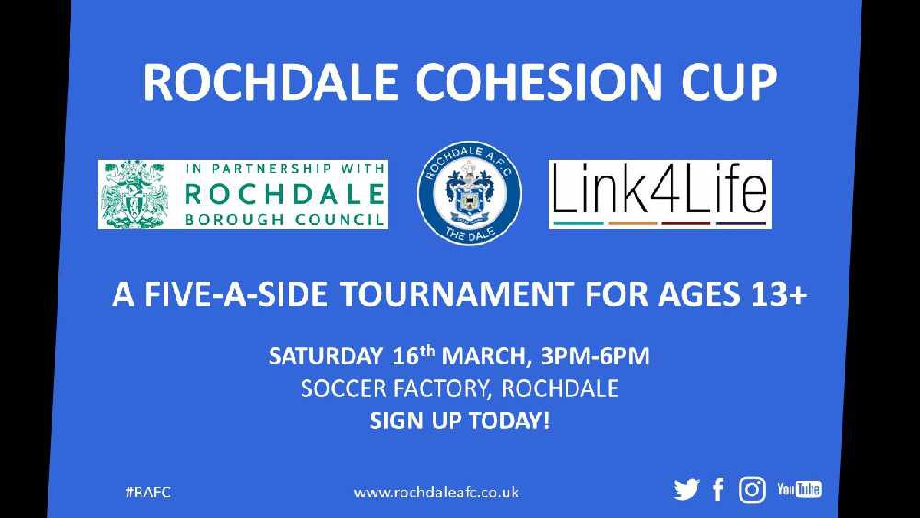 Picture courtesy of Rochdale Football Club
Rochdale Football Club have announced a new competition aimed at the entire Dale community with a chance for youth players to have a go at a bit of five-a-side.
The event is being held on Saturday 16th March 2019, from 3pm-6pm, at the Soccer Factory, Royle Barn Road, Rochdale, OL11 3DT.
There's a Youth competition for ages 13-16 and an Open Age competition for those aged 17 and above. Both competitions are open to males and females.
The winners and runners-up will receive trophies and medals, whilst the winning team from both age groups will be treated to a paid-for meal!
Interested? Check out the details below and fill out a registration form.
HOW IT WORKS
Entries will be on an individual basis, from which players will be allocated a team.
Teams will play group matches, with qualifying teams entering the knockout stages.
All players must bring appropriate footwear and equipment for an indoor tournament (4G surface).

SIGN UP
Visit www.rochdaleafc.co.uk to download a registration form. The completed form should be returned to the Main Reception at the Soccer Factory. Alternatively, it can be emailed to syed.ali@rochdaleafc.co.uk
The form must be completed and returned by Thursday 14th March.