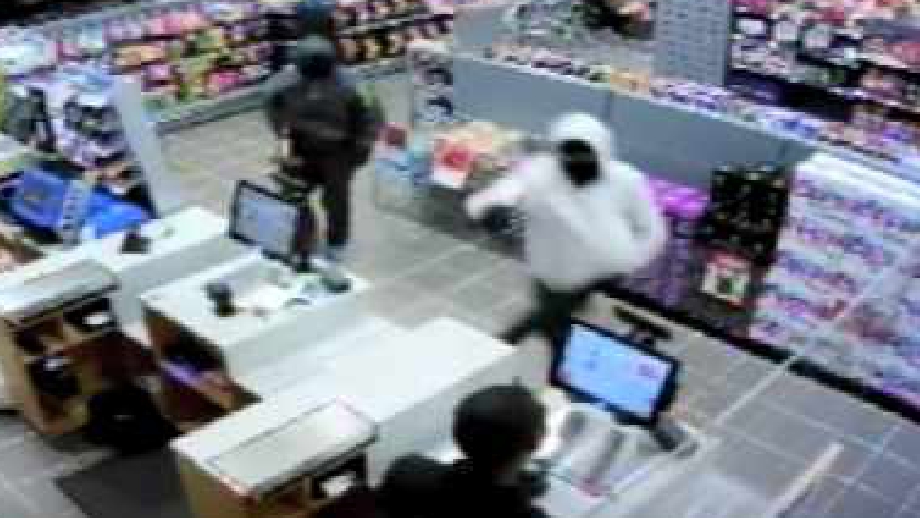 Picture courtesy of Greater Manchester Police
Police officers in Middleton have released CCTV footage of two men they'd like to talk to in connection with an armed robbery at a shop.
At around 9.55pm on Tuesday 8th August, two men armed with a machete and a sledgehammer entered The Spar on Hollin Lane.
They both ran into the store before the one armed with the machete punched a member of staff in the face, while the one armed with the sledgehammer jumped over the counter and forced money from the tills.
After grabbing a large amount of cash, the two men fled the shop toward an alleyway that links Abbey Road and Hollin Lane.
Officers have now released CCTV footage which shows the robbery taking place in a bid for witnesses to come forward.
Detective Constable Dan Daly of Greater Manchester Police's Rochdale Borough, said: "While we were reviewing the CCTV, we really understood the terrifying impact this had on the people in the shop at the time who scrambled around the aisles for their safety, threatened by these two masked men with weapons.
"We have spoken to some witnesses who were in the area at the time but still need people who either saw these men or recognise them from the footage to come forward.
"As they have their faces covered, it's not easy to identify them but I'd ask you look at their mannerisms, the way they hold themselves and how they act - does this look like someone you know? Do you recognise their clothing?
"Get in touch with us with any information that you have to help find those responsible who think it's acceptable to put people's safety in danger all for a quick win."
Anyone with information should contact police on 0161 856 8441 or the independent charity Crimestoppers, anonymously, on 0800 555 111.